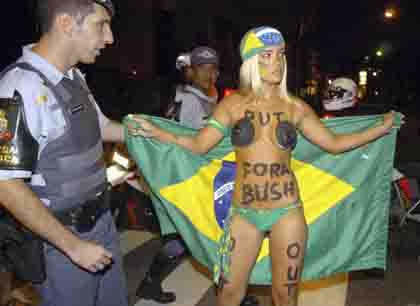 El presidente Bush recibe un llamado directo desde Brasil, y como no
entiende un cuerno de portugués, decide llamar a su interprete y
ponerlo en conferencia en otro teléfono, muy cerca suyo.
El interprete interroga: -Quem fala?
-Aquí, desde Brasil. Por gentileza, fala para seu presidente que nos
los brasileros fuimos quem fizerem estalar los aviones en seus
predios, tá OK?
El interprete no podia creer lo que escuchaba, y con la voz
entrecortada le dijo a Bush:
- Mr. President, they...the Brazilians...they said that they were
who crashed the planes into the Twin Towers...
Bush no lo tomo en serio: - Are you crazy?? Brazil?? It is not
posible!!!
It should be a mistake!!. Please, ask him again....
El interprete entonces re-pregunta: -Por gentileza, quisieran los
senhores repetir para mi otra vez?
-Ok. Fala para seu presidente que NOS, OS BRASILEROS, fuimos que
fizerem estalar los aviones en seus predios , tanto en Nova Iorque
como Washington. NOS FUIMOS, TA???
El interprete gira su cabeza y dice: Mr. President, unfortunately he
confirmed it. The Brazilians were who crashed the planes...
Entonces a Bush se le salio la cadena: FUCKING BRAZILIANS!!!
ATTACK THEM!!! DESTROY THEM!!! Launch missiles, nuclear bombs,
biological weapons, ántrax, hepatitis, gonorrea, wathever!!! Start
with their principal cities!! Destroy their Capital City!!! I need
to know which city is their Capital!!! Ask Him!!!
El interprete puso su mejor voz conciliadora y como si nada pasara,
pregunto:
-Disculpen os senhores, pero por gentileza, podriam decirme cual es
su Capital??
Era la pregunta que el brasilero estaba esperando:
-Seguro!!! Tudo mundo conhece!!! A nossa capital e...BUENOS AIRES!!!